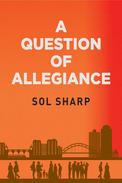 A Question of Allegiance
Shmuley Myers Novels, #2
by Sol Sharp
Product Description:
Detective Shmuley Myers celebration of Purim, the Feast of Esther, turns into a murder investigation – in the Rabbi's office! Immediately followed by the disappearance of the synagogue's sexton. Shmuley's trail leads to a massive explosion, community secrets uncovered, and a race to find the missing – and the murderer – before Shmuley's secret life implodes.
Set in theocratic America where citizenship begins at conception, Shmuley and his wife Chaya also help women seeking freedom from reproductive tyranny to find safe places or new identities. Complicating matters is Shmuley's partner, Jethro Waters, whose job with the Preborn Investigation Bureau is finding and arresting fetuciders and anyone helping women or gay people escape the country.
A Question of Allegiance is the second novel in the Shmuley Myers series. Check out A Day at the Zoo as well!