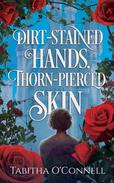 Dirt-Stained Hands, Thorn-Pierced Skin
by Tabitha O'Connell
Product Description:
A queer, Beauty-and-the-Beast-inspired novella
Heron thought ey wanted to be with handsome, charming Tiel—but the relationship hasn't quite lived up to eir expectations. With Tiel's confidence comes a tendency to be overbearing, and now he wants Heron to leave eir farm life behind and move to town with him. And Heron can't figure out how to explain to him that ey doesn't want that.

When an accident strands Heron's mother at a castle rumored to belong to a family of mages, Heron rushes off to make sure she's all right—only to find the castle occupied by a single man who isn't a mage at all. Prone to hiding behind his long mess of hair, the mysterious Theomer possesses a long-neglected, semi-magical garden. A job tending it is Heron's perfect opportunity for some time away from Tiel while ey decides what to tell him.

Heron did not plan to be drawn in by Theomer's attentive gaze and understated sense of humor. But as an undeniable bond forms between them, ey's soon going to have a much bigger choice to make…