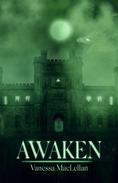 Awaken
by Vanessa MacLellan
Product Description:
Balin stands between two great Powers. One will shatter his mind; the other will destroy his soul. Only one of them can save his people.
Fort Resonbirg, a Norse stronghold in the New World, is besieged by the evil sorcerer Ursulard the Dreamspinner. Though their fields are scorched and homes destroyed, the residents and refugees do not worry, because Fort Resonbirg is Awakened with the power to provide, protect, and grow. But not all is as it seems when a wall of impenetrable mist surrounds the fort, and within the mist hunts the dragon, Nidhogg. Nidhogg hungers for more than flesh and bone. It instills nightmares on its prey, feeding on fear and pain, inevitably taking lives.
Balin Tremore, a commoner bound for the militia but hoping to stay by his noble love's side, never expected to amount to grand things. When the great power of Cradleweaving is awakened within him, Balin unknowingly becomes the one person with the power to pierce the wall of mist and banish the deadly beast within before it destroys them all—if he can master the new power in time. But to master the power, he must sacrifice much. The question is, will it be his position, his Lady, or his very soul?
The Mist meets Nightmare on Elm Street in this classic tale of personal sacrifice.