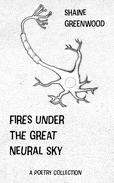 Fires Under the Great Neural Sky
by Shaine Greenwood
Product Description:
Written over the course of five years, these poems grapple with purpose and reality from a myriad of existentialist perspectives and themes. Through these poems, we travel through the cosmos, to various mythological settings, and even to our own neurons. If you're seeking to rearrange your grey matter, this is the collection for you.
This collection is broken up into seven sections that are based on core existentialist concepts. Each section comes with its own unique stippling drawing and a brief bit of info on the concept.
Existentialism is humanism.