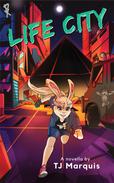 Life City
Tales of the Endless Earth, #1
by TJ Marquis
Product Description:
THE LAMB LIFTED THEM UP...
...BUT THE BEAST WANTS TO TEAR THEM DOWN.
The uplifted animals of Life City are used to destructive alien incursions from above. Everyone knows how to fight back.
Heroic rock band Magikrash makes a living playing music and fighting invaders, but there are some threats they may not be prepared for...
When a new and disturbing trend pops up in Life City, punk singer Saqi and her bear bassist Barley must discover how to save their brainwashed friends, and the city.
Vibes of classic Saturday Morning cartoons, punk rock and metal, synthwave, and fast-paced adventure combine for an uplifting read with the Lamb at its heart.