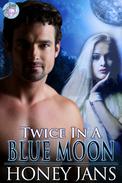 Twice in a Blue Moon
Blue Moon Magic, #2
by Honey Jans
Publisher: Shooting Star Books
Product Description:
Charity Langford has a secret passion. Hormonal changes, as this unaware werewolf comes into heat are making her reckless. She's taken to visiting an adult site to get her rocks off. She has no idea that the pheromones she gives off are a temptation for every rogue wolf in the area hoping to bed and wed a princess.
Half-breed wolf, Lucas Kendal, has promises to keep. To guide Charity into heat. To keep her safe. And to avenge his brother. His feelings, even if he had them, mean nothing. He's a lobo, the strong hand Charity needs to protect her and teach her about sex and who she is, and expendable.