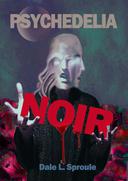 Psychedelia Noir
by Dale L. Sproule
Product Description:
This new collection of short stories begins with the harrowing "The Dream Harvesters," wherein new mother, Evie, tries to figure out the legacy of violence that has shaped her, and finds that the question of "who" she is has taken a backseat to the question of "what" she is.
"Rated 'L' For Legacy" is another story about legacies – albeit, one with a much lighter touch! It's all about bridging the generation gap and treats you to a family outing, where Gramps learns that monster hunting ain't what it used to be.
"Nunavut Thunderfuck" is a Pushcart Nominated story that takes a skewed, cynical and darkly hilarious look at the options that polar bears can consider as career choices as the resources in their natural habitat dwindle away.
"The Headmaster's Closet" is a morbid little trifle that take the notion of headmaster quite literally.
"Ladder of Ashes" is about ghosts and the decay of colonialism.
"Along Dominion Road" takes you to a world where dementia has reached plague-like dimensions.
"The Unravelling" is not just about losing your mind, but other horrors like growing old and becoming irrelevant. Psychedelia Noir winds up with a special bonus story – a reprise of "Touching the Screams" a short story adapted from a chapter in the upcoming novel, The Carnivorous Forest.