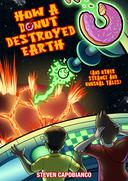 How A Donut Destroyed Earth (And Other Strange and Unusual Tales)
Tales From The Silver Claw Inn, #1
by Steven Capobianco
Product Description:
Have we told the story of how a donut destroyed Earth? No? Well, it's kind of an awkward story.
From the author of City of Kaiju and the upcoming Legends of Eifalia series comes a short fiction collection like no other. Fifteen hair-raising, weird, hilarious, and heartwarming tales. Whether it's a get rich quick scheme gone hilariously wrong or an emotional encounter with an author, there's a story for everyone.
Stories include:
--How an unlucky highrise overcomes a rat problem
--A magical spellbook with "hare"-raising results
--When meeting aliens becomes a cringefest.
--The worst bard in history.
--Your new favorite personal assistant might actually help for once.
And so much more. You'll laugh. You'll cry. You'll wonder how did a donut destroy Earth?