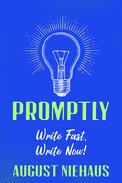 Promptly: Write Fast, Write Now!
by August Niehaus
Publisher: Halftree Press
Product Description:
Go from zero to a decent hero (plus a concept and a world) in no time!
"Promptly: Write Fast, Write Now!" will spark your imagination with writing prompts from every category important to fleshing out a strong idea: characters, concepts, conflicts, and settings. Mix and match using the guides provided to go from no idea at all to the bare bones of a working novel!
Fire up your imagination with the must-have resources in this book, from worksheets to prompt lists. Intended for writers of speculative fiction (like fantasy, science fiction, horror, magical realism, and everything in between), "Promptly" will challenge you to think of your world and the characters that populate it from new angles that will get you to write fast... right now!