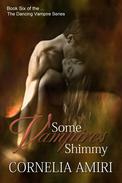 Some Vampires Shimmy
The Dancing Vampires, #6
by Cornelia Amiri
Product Description:
The last of the dancing vampire sisters, shimmy and strut their way into belly dancing at a Scottish Steamapunk Con. It's all sizzle and steam when they get together with a sexy rock guitarist and a hot looking god at the con. Afric swore she'd never love a human but Kade's got her tied up in Celtic knots with the exotic pleasures of his shibari rope.

The War Goddess Morrigan commands Afric to cut all ties with her human lover. Afric's caught between pleasing her goddess, her sister, and her man. What will it take for Afric to follow her own heart and where will that path lead to, the Earthly Realm or Underhill?