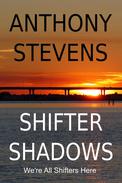 Shifter Shadows
by Anthony Stevens
Product Description:
From the dawn of prehistory to an apocalyptic day after tomorrow, shifters and their friends have been in the background of every historical event. Shapechangers, healers, hunters, shamans, and great leaders, have always been around. We recognize the legendary ones, but must always keep in mind that Gomer is a good dog.
Note: This novel is about 112 thousand words in length.