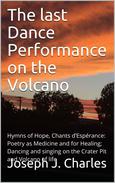 The Last Dance Performance on the Volcano
BestIndiePres Poetry like Water and Air
by Joseph J. Charles
Publisher: CD Laferrière
Product Description:
This poetry collection will help you reconnect with your guidance system or inner GPS through a combination of prayer, hymns, meditation, and balance with your community and ecology. You will be able to focus on the things that uplift your soul rather than spending time on temporary or temporal and material matters. In so doing, you will be able to cut through the uncertainty, drama, chaos, confusion, and disruption in your life. This way, you will be able to integrate and align with the 'Hidden Law,' also referred to as 'Divine Blueprint' or 'Universal Intelligence.' By staying in touch with your inner GPS, you will be able to remain healthy and anchored.
This poetry collection will help you develop a drama-free personal restorative practice. On a personal level, you will be better equipped to deal with the issues and meet your needs in our demanding modern world of family, work, and fast-paced society linked and always connected by technology, internet, and social media.
This poetry collection is also a tribute to the dedication and hard labor of the US farmers, growers, field workers, Fresno State Agricultural Programs, and the various organizations advocating on behalf of California Agriculture. The Central Valley of California remains the 'fruit basket and bread basket of the world." This poetry collection is a tribute to the sustainability and stewardship of everybody who is involved in agribusiness. I have learned that to better appreciate California, one has to engage in outdoors activities and appreciate the various ethnic groups from all over the world living in the state. Think about the sun, sea, sand, mountains and snowfields, deserts and dunes, wildlife and marine life, wine country and wildfires, and the vast expanse of farmland covering the Central Valley of California.
If you enjoy the fruits of California's Central Valley, the shorelines of California, places and cities such as Los Angeles, San Francisco, Santa Barbara, Bakersfield, Fresno, Modesto, Sacramento, Weed, Yosemite and Sequoia National Parks etc, then this book is for you. Mr. Charles never forgets his Caribbean roots. He takes his readers to places of extreme beauty as well as the ordinary streets inhabited by homeless and addicts to opioids, fentanyl, and crack cocaine. He also writes poems about recovery and addiction aftermath from California to West Virginia.
In "A Dream Deferred: all that glitters is not gold," the poet writes about things that keep us chained to debt, joblessness, and addiction.
"Joseph J. Charles's poetry is brave, genuine, and full of joy and hope. His poems deal with what it takes to live in California with all its societal issues, wealth, and politics," wrote reader, Balthazar Bacon.
"This book is a love letter to the people of California, specifically the men and women who continue to build and shape California's Central Valley, California's agribusiness and Ag land. It is also a tribute to the farmworkers who labor to raise their sons and daughters for a better tomorrow," wrote Tiffany Padilla.
"I recommend this book to anyone who is interested in inspiring and necessary poems for our times," wrote Jessica Garcia.