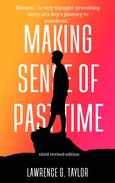 Making Sense Of Past Time
by Lawrence G. Taylor
Product Description:
Revision: 14.6.2022
Through the prism of memory, middle-aged Harry tries to recapture his youthful years. As a young man, Harry is not content to live in his provincial hometown in "the Caribbean." He is easily bored, restless, and afraid that his life would be worth nothing if he remains there. And so Harry ventures into a distant land to make something of himself, and the desire to become the "captain of his ship," by distancing himself from an authoritative father. He chooses a metropolitan city - London - where he expects green pastures, while treasuring the dream of one day reaching the shores of America. But there are surprises and challenges to his character.
BOOK REVIEW — Reviewed by Ruffina Oserio for Readers' Favorite
Making Sense of Past Time: A Novel by Lawrence G. Taylor is an interesting story that reflects the reality faced by millions of young migrants, especially those from black communities. Born and raised in the Caribbean, with an authoritative father, the anxious and restless Harry decides to seek opportunities abroad while nurturing the dream of one day becoming a ship's captain. He sets out for London to begin his journey with the hopes of ultimately moving to the United States. Follow a story filled with realism to discover the challenges he faces along the way and how the experiences shape him. But can he ultimately become the man he's always wanted to be?
Lawrence G. Taylor crafts a narrative that is deceptively simple in plot structure but one with a sophisticated protagonist and themes that capture the reality of what it feels like to experience racism. "In London, I'd learnt what it was like to be black and a second-class citizen. A couple of practices, customs appeared questionable during my search for work and rented lodgings." The narrative is replete with social and cultural commentaries that give readers powerful insights into social constructs and race relationships. The underlying conflict is personal and mostly internal, a young man's struggle to redefine himself in a society that wants him to be someone he is not. The conflict is introduced from the very opening of the novel. Readers meet a young man who left his country in frustration to try his luck in another. Making Sense of Past Time: A Novel is told in a strong first person narrative voice that forces the reader to see the world from the viewpoint of the protagonist. It is confident, the prose is great, and the elements of the setting are skilfully written into the story. Making Sense of Past Time is both entertaining and inspiring.