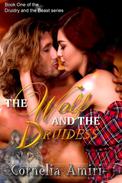 The Wolf and the Druidess
Druidry and the Beast, #1
by Cornelia Amiri
Product Description:
A Celtic Tryst With A Shape Shifter Twist
Deep in the dark woods, Druidess Seren discovers a wolf shape shifting into the bare, muscular Celtic God, Gwydion. Seren's mind turns from the Samhain feast to wicked thoughts of Gwydion's gorgeous body. Is the love Gwydion and Seren share strong enough to overcome barriers between an immortal god and a mortal woman? Or will a warning of danger from beyond the grave destroy the sensual magic brewing between the wolf and the druidess?