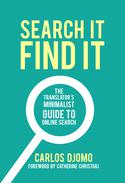 Search It, Find It: The Translator's Minimalist Guide to Online Search
by Carlos Djomo
Publisher: cdlancer
Product Description:
THE INTERNET IS AN OCEAN - HERE'S YOUR COMPASS
Everyone - including you - hate to spend hours searching online for important stuff with less satisfying results. So, why continue the same way? Fortunately, there are little-known strategies you could leverage to up your online searching game. Imagine how you would feel if you could find accurate terminology, specific documentation, high-paying opportunities or virtually anything that is available online...This book takes you on an exciting journey through the dynamics of search engines, social media, electronic terminology tools, online support platforms and much more, in a drive to show you untapped approaches and steps you can take to become an online search ace in no time (even if you aren't a geek).